Sara Aasum Hultberg was first recognized for her talents in the kitchen at the young age of 11, when one of her recipes was published in the local newspaper. This aspiring, young talent, has in short years built an impressive resume with awards and worked at a number of prestigious establishments from New York City to Stockholm, Sweden.
Sara was born in 1990 i Stockholm, Sweden and grew up in the town of Arvika, close to the norwegian border. This curious and ambitious baker was often found in the kitchen at a young age where she began experimenting with recipes of her own. With a mother and grandmother who held great interest in the field, it is evident where Sara has inherited her passion and natural talent for the craft.
Sara chose to specialized in pastry and baking in high school and went on to graduate with a Baker's Apprentice Diploma in 2009. On the sidelines of her studies, Hultberg participated in the Swedish Championship for Young Bakers and won the gold medal. A very motivated individual, Sara received an invitation to move to New York City to work with Master Chocolatier and Executive Pastry Chef of FIKA NYC, Håkan Mårtensson. In September of 2010, Sara moved halfway around the world to pursue her passion for pastry and to challenge herself, both on a personal and professional level. Not too long after, Sara was offered the position of Head Pastry Chef of all five FIKA locations. She took on the responsibility for creating all the amazing nordic-inspired cakes, breads, and pastries offered to curious New Yorkers.
In 2012, after two years in New York City, Sara traded the pulse of the big city for the slopes in Hafjell, Norway, where she worked with the talented crew at Skavlen. After one season she headed to Stockholm, Sweden where she accepted the job of Pastry Chef at trendy downtown restaurant Taverna Brillo. Here she was in charge of creating an innovative and attractive dessert menu as well as create and curate all cakes, desserts, and ice creams. During her time here, Sara participate in the national competition for Pastry Chef of the Year. With a most impressive performance Sara received the title of Pastry Chef of the year in 2014.
Her notable achievement opened many doors and in 2015 she released her first cookbook on candy, fudge, and chocolate - "Kola, fudge, knäck och bräck". After two years at Taverna Brillo, Sara moved, just around the corner, to newly opened and hotspot Hillenbergs, where she currently holds residence as Head Pastry Chef.
Previous employers
Gateau Bakery, Stockholm – Sweden
Pascal, Oslo – Norway
Skavlen, Hafjell – Norway
FIKA, NYC – USA
Taverna Brillo, Stockholm – Sweden
Frantzén Group, Stockholm – Sweden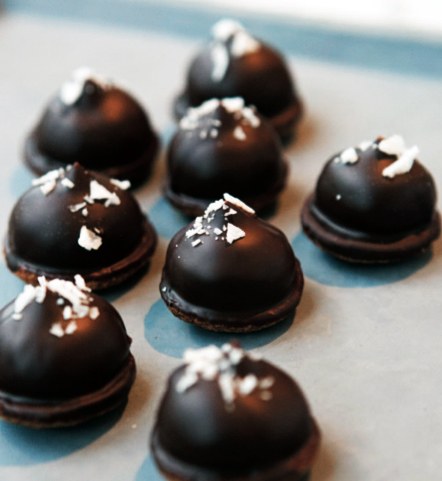 Awards
Årets konditor 2014
Årets unga konditortalang 2013
SM Unga Bagare 2010
Skolmästerskapen 2009